Rainbow Bridge Testimonials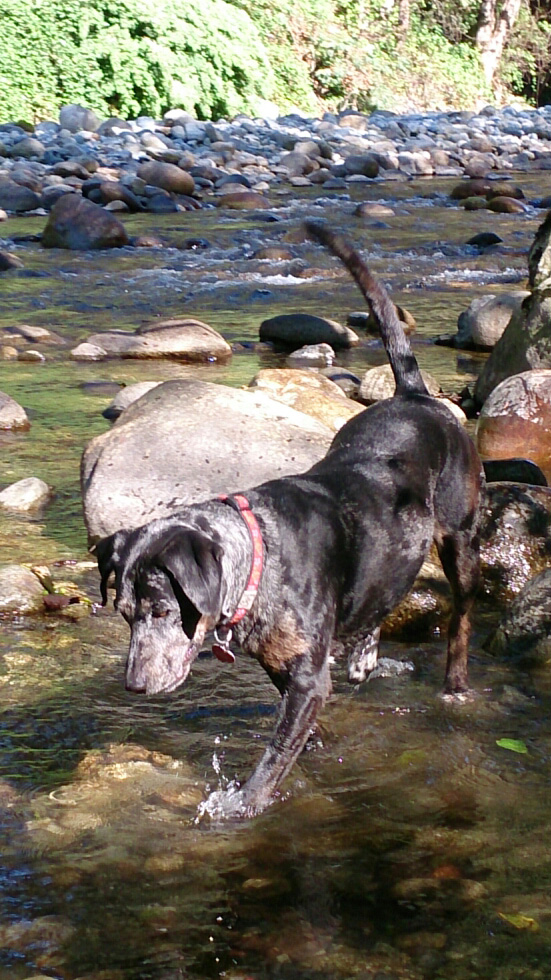 Debbie, "Anuket" & "Brahma"
Jenn @ Furry Friends & Co. and all of the wonderful people that work with her, have been walking and boarding my dogs for over five years.
This is a very committed group of walkers, many of whom are skilled dog handlers. Jenn has organized training sessions for her team, and attends many seminars on canine behavior, herself. One of my dogs has 'issues' and I feel extremely confident when she is picked up for her walks.
I have found everyone to be very reliable and friendly, not to mention, trustworthy AND, punctual.
Having two large dogs and, a busy life, is complicated – Jenn @ Furry Friends and More, and her wonderful team, make it easy!
Debbie, "Anukhet" & "Brahma"
Mandy, "Jessie" & "Bandit"
We have been clients of Furry Friends for over 5 years now and we cannot imagine what we would ever do without Jenn and her staff. When we first met Jenn, we were the proud parents of two beautiful dogs, Jessie – a Chocolate Lab and Bandit – a Hound/Husky mix. At that time, Jessie was well into her elder years, and due to her numerous conditions, she had very specific needs. We were fearful to leave Jessie with anyone. Then one day we were referred to Furry Friends. When we met Jenn, she quickly put all of our tensions at ease. Her knowledge, her training, her expertise with caring for dogs, her experience having worked in a vet, her amazing personality, her absolute & undeniable love for animals, her patience and understanding with us (as we are such overprotective dog parents), allowed us to be totally stress free about our dogs being in her care. We will be forever grateful to her for all she did for us during that time. Her compassion, empathy, and understanding of everything Jessie needed were awe inspiring. And when Jessie decided it was time to leave us, Jenn was the first person to come to our house to give us her condolences. Jenn, who is also a pet owner, truly understands the depth with which we love our dogs and how they are a part of our family.
As for our wonderful boy Bandit – he LOOOOOOOVES Jenn! When he sees her coming, he goes absolutely crazy. We can feel the same bond between Jenn and Bandit, that we have with him. Bandit absolutely adores her and so do we. So much so, that when we have a child, we are hoping Jenn expands her company to include daycare for children!!!
Jenn has truly gone above and beyond for us and most importantly, our dogs, time and time again. She has been there 24/7. And no matter where we go within our animal community – whether it be a vet, a dog groomer, a dog park – when we mention Jenn, the response is always the same – how remarkable and amazing she is to all of us in this community! We are truly blessed to have a company like Furry Friends providing us with such great services for our pets. But even more importantly to us, when you watch Jenn and her staff interact with the animals, you see pure love!
Mandy, "Bandit" & "Jessie" both are over the rainbow bridge now…
Jane & "Cobey"
My dog Cobey had been with us for 3 years before we left him for more than one day to go on a holiday! He is now 11. When we found Jenn at Furry Friends it was such a relief because Cobey is a small dog and I was always hesitant to leave him with a pet sitter as there are often bigger dogs around. We discovered that Jenn makes sure that each animal is comfortable and she introduces them to the other dogs once she is sure it is safe for all. Most importantly, Cobey was always excited to see her! I did, and will continue to recommend her to many of my friends and colleagues. All have been thrilled with her personal service. I will use her service again and again and highly recommend her and her staff to everyone who loves their animals and wants the best for them.
Jane & "Cobey"
Debbie, Paul & "Bailey"
An open letter to Furry Friends & Co.
My mom introduced me to Furry Friends and More in 2002 when I was about 8 weeks old. She was frantically trying to deal with a new puppy at home and work full time. Jenn and I hit it off immediately and soon she had introduced me to other four legged furry friends. Three days a week I was picked up and taken on incredible adventures in the woods and sometimes for a swim in the ocean.
Seven years later I still look forward to my outings with Furry Friends. It's very social and gives my mom a break. She says I'm good and tired the days that I walk with the group. The staff is terrific and they tell me that I'm a very good boy and they leave notes for my mom and dad to read. If I need a walk on an un-scheduled day it's always easy to get in touch with Jenn at Furry Friends.
Chocolate labs are very loyal and I highly recommend Furry Friends and More.
Whoof!
Bailey
**We walked Bailey for another 5 years after this testimonial was written, as he aged he moved from the group hiking adventures to the Ol' Tymer's & Ol' Souls until his very last week. Bailey still has his paw prints on all of our hearts, especially mine.